Get your American flags, pins, cups, and patriotic collectibles here!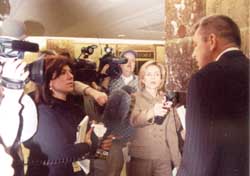 CIC's Jack Clayton, who recently passed away, visiting Senator Daschle's office.
See more photos of CIC in Action.
CIC Headlines for Jul. 27, 2017:
NUMBER ONE POLITICAL STREET THEATER STAR DIES
What's New at ConservativeAction.org:
---
---
Other former project names: Committee To Impeach Clinton, Clinton Investigative Commission, ImpeachClinton.org, ImpeachClintonAgain.org. Some current project names: Citizens' Investigative Commisssion and StopHillary.net. All projects sponsored by the Council of Volunteer Americans, Donations are not tax deductable.